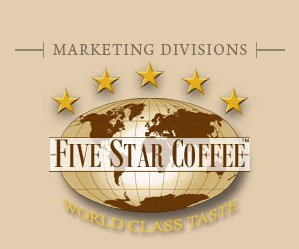 FIVE STAR COFFEEDivision
In 2012, we conceptualized, capitalized and commercialized our FIVE STAR COFFEE™ Division. The term" FIVE STAR" has been registered as our flagship brand because it is the internationally recognized rating for best-of-the-best. This operating division sources and markets artisan coffees and a very select list of complementary, gourmet food products directly to fundraiser groups,business gift givers,civic, social and sports clubs and realtor organizations. The attribute that each item in the FIVE STAR product line must have… WORLD CLASS TASTE....Learn more.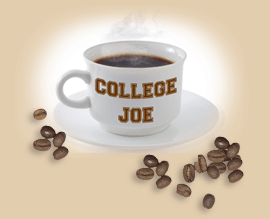 COLLEGE JOE COFFEEDivision
Our next new business development project will be the most grandiose of any we have undertaken since our founding in 1986. The COLLEGE JOE COFFEE™ Division will fill an unmet need that we are the first to identify. Commercialization of this operating division will require a second round of investor funding. It has been conceptualized and will build upon the artisan supplier network we have developed for FIVE STAR COFFEE™. Our Business Plan is now in draft form and is proprietary to our firm. Presently, our top priority is successfully commercializing our FIVE STAR DIVISION. Once the COLLEGE JOE project is in the "GO MODE", we will begin to communicate it to our affinity investor community... Learn more about our affinity investor plan..
PEACHTREE COFFEE GROUP conceptualizes, capitalizes and commercializes new, coffee based marketing businesses. Our new FIVE STAR COFFEE™ DIVISION is an example of our work. We also offer skilled and objective business development, product evaluation and market research services to all players in the SPECIALTY COFFEE INDUSTRY. This means equipment manufacturers, roasters, regional and national coffee shops, trade publications, trade associations, consumer publications and coffee growing countries … Learn more about our advisory services.
Our Background
WE are the new-to-the-world sister company of the highly regarded PEACHTREE CONSULTING GROUP which has practiced the art and science of business development since 1986. We have a passion for exceptional coffees, complex espressos and velvety cappuccinos. Due to our market research activities at the SCAA and COFFEE FEST Shows over the past ten years, we also understand and appreciate the extraordinary quality and functionality of the brewing, roasting, grinding and blending equipment needed to bring these uniquely satisfying beverages to our cup … See the Biograph of our founder.
Our Philosophy
"The future belongs to those who see the opportunity before it becomes obvious." John Scully of APPLE fame is credited with this statement and we need only to look at APPLE's success to know that it works. As of now, APPLE is the most financially successful company in the world. We embrace their visionary philosophy but we also believe that simply "seeing the opportunity" or "having the vision" before others see them is not enough. In fact, it's just the beginning. Success requires having the right vision and the right strategy supported by the right actions.
Our Services
YOUR VISION might be a new business vision, a new product vision, a new service vision, a new marketing vision or any number of business related visions. If it is a growth vision, our role may be to help you create "the vision" or objectively verify that your vision is worthy of pursuit. We utilize our business and product development experiences, marketing skills and research resources to provide you with the best directional advice possible … Learn more about our services.