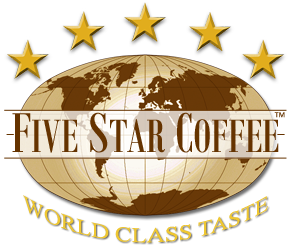 IN 2012, PEACHTREE COFFEE GROUP conceptualized, capitalized and commercialized our FIVE STAR COFFEE™ DIVISION. The term 'FIVE STAR' has been registered as our flagship brand because it is the internationally recognized rating for best-of-the-best. This operating division sources and markets artisan coffees and a very select list of complementary, gourmet food products directly to fundraiser groups, social clubs, sports clubs, corporate gift givers, and realtor organizations. This is being done using our FIVE STAR ARTISAN COFFEE SAMPLER and GOURMET BREAKFAST PROGRAM. The attribute that each item in the samplers must have to qualify for the esteemed 'FIVE STAR' rating is what we call … WORLD CLASS TASTE.
IN EFFECT, we have combined extraordinary coffees with other rare finds including uniquely flavored latte and frappe mixes, distinctively superior all natural pancake mixes and healthy organic oatmeal. In addition, chocolate lovers will be delighted to know that we have integrated specially blended cocoas, all natural gourmet truffles and the "world's best" fudge mix into our samplers. Our best-of-the-best FIVE STAR coffees are roasted by small batch artisans and are not available in the mass market.

FIVE STAR COFFEES are the center focus of our fundraiser and corporate gift programs. We offer small batch, artisan and gourmet grades of regular, organic, fair trade, espresso, decaf and flavored coffee samplers for sale at our new fivestarcoffee.biz site. Each sampler (seventy-five cups) is comprised of three one-half pound bags of coffee. Gourmet breakfast packages (8-16 servings) are also featured and available for purchase on this site. BON APPETIT!
Learn more about how each program will work for your organization.